LATINX COMPOSER GABRIEL BOUCHE CARO
Turning Giannina Braschi's Poems Into a New Puerto Rican Song Cycle
Latinx Spaces interviewed the Puerto Rican composer Gabriel Bouche Caro about his next project: a new song cycle based upon the poetry classic El imperio de los sueños by iconic Puerto Rican author Giannina Braschi.His work has been featured in the Havana Contemporary Music Festival, sound SCAPE, and New Music on the Point. He has been commissioned by the Baltimore Classical Guitar Society, the Canva sounds Collective, and the Massachusetts International Festival of the Arts. He is the recipient of the Randolph S. Rothschild Award in Composition (Peabody Institute) and the Augusto Rodriguez Prize for musical achievement (University of Puerto Rico). Here he discusses his artistic influences ranging from heavy metal to reggaetón and beyond.
Gabriel, as a classically trained new music composer, do you have any guilty pleasures when it comes to songs?
Gabriel Bouche Caro: I don't feel guilty about anything I listen to. But, people who don't know me might be surprised that I really enjoy reggaetón, especially the from the early-mid 2000s, and Bad Bunny along with other Latin trap artists. I still break out the occasional NSync or Backstreet Boys song from time to time, and I also love many songs from Disney movies.
Your latest chamber music piece "Foreign" was mentioned in the new book Poets, Philosophers, Lovers: On the Writings of Giannina Braschi edited by "Professor Latinx" Frederick Luis Aldama and Tess O'Dwyer (University of Pittsburgh, 2020). You got a nice big shout-out, among the roster of edgy artists whose cultural productions are inspired by your fellow Boricua. Aldama qualifies Braschi one of today's foremost experimental Latinx authors who writes challenging books that shake-upside our expectations and challenge our assumptions. What is it about her radical writing that speaks to you?
GBC: When I first read United States of Banana (a geopolitical tragicomedy about the liberation of Puerto Rico), I immediately recognized there were fragments and ideas that I felt in tune with and gave me the feeling of "I wanna set this." Even though the work is prose, I felt I could build so many settings for songs from it, starting with her musings about foreign-speaking English and writing in a foreign language.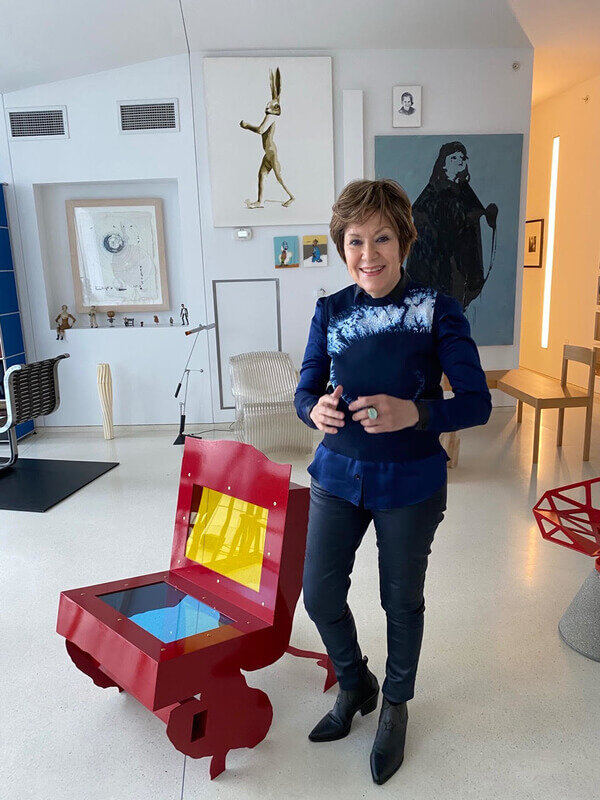 So, from thence cometh your title "Foreign"?
GBC: Yes, exactly.
You shared with us plans for your next project: to compose a song cycle based upon Braschi's poetry. Is there a notable difference in how you will approach setting poems from Empire of Dreams versus excerpts from the novel United States of Banana?
GBC: Yes, there's just something about the smaller scale nature of the poems that make me feel there's a song cycle in there. Aside from that, there's just so much to choose from! I think building some type of story or general feeling from disparate sections of Empire of Dreams will be an exhilarating journey.
Have you chosen the lyrics for the song cycle yet?
In addition to the poems in Spanish that I'm selecting from El imperio de los sueños, I've asked Giannina Braschi to select three poems by other poets. She chose Angelamaría Dávila, Luis Pales Matos, and Julia de Burgos as her favorite Puerto Rican poets.

Composer Gabriel Bouche Caro. Puerto Rican Song Cycle.
It's interesting that you decided to use the original Spanish version. El imperio de los sueños has been called an epic love poem to New York City, a place that has attracted so many talented artists, musicians, and writers from around the world, especially those from Puerto Rico. Now that you're living and writing in New York City, has your relationship to the Spanish language changed?
GBC: I just love how Spanish sounds, how it feels and how it makes me feel. I hear Spanish more musically than English. Since I moved from Puerto Rico to New York five years ago, I have come to love the language more and to appreciate the fact that it was never supplanted fully by English on the island. There are some inherent problems with loving the language so much when it also comes from a colonizing power, but we have our own accent, we have our own words, our vernacular, and I've become increasingly attracted to that.
Who are the ideal singers to debut your song cycle?
GBC: Ah Young Hong, Tony Arnold, Meechot Marrero, and Lucy Dhegrae. They each have their own distinguishable timbre and delivery and you can just tell that there's a special quality about all of their voices individually. In a field where sometimes instrumentalists and vocalists are quick to blend in, these stand out in the best way possible.
---
---
Can you recall the first moment when you realized that you're a composer?
GBC: I don't think there's any song or piece by another artist that made me feel that way. Although when I got into rock and metal music as a teenager that's when the urge to actually play an instrument developed. Looking back on the times when I was performing, I always felt like there was something that wasn't quite clicking. When I composed my third piece, a duo for saxophone and electric guitar, that's when I felt I was a composer.
In the world of new music today, who are the most influential figures to whom you feel closest?
GBC: Michael Hersch and Jason Eckardt have been so supportive of me, and on top of that their music is awe-inspiring. Suzanne Farrin's music has incredible elegance and embraces emotions in a way that I love. Lastly, Carlos Cabrer, who is a composer from Puerto Rico that I don't think enough people know about. I'll just say that if it weren't for him, I simply wouldn't be a composer.
Who are your giants in Latin music by way of innovation?
GBC: If by giants we mean people who have been historically impactful then people like Astor Piazzolla (Argentina), Heitor Villa-Lobos (Brazil), Silvestre Revueltas (Mexico), Carlos Chavez (Mexico), Alberto Ginastera (Argentina), Leo Brouwer (Cuba) all immediately pop-up in my mind. Thinking about Puerto Rico specifically, Amaury Veray, Rafael Aponte-Ledee, and Hector Campos-Parsi left a huge mark in Puerto Rican art music and brought to the island elements of European art music which they used to craft their own voice and were not satisfied with being imitators or servants to the established craft.
What other kinds of celebrated figures from the island do you admire?
GBC: There are so many songwriters in Puerto Rico's history that have reached the pinnacle of their craft starting with Rafael Hernandez and moving all the way to Tite Curet or even Tommy Torres nowadays. They all did their own thing and have their own style, but I find in all of them inspiration. Current Puerto Rican composers who write amazing music and have their own uncompromising voice include Carlos Carrillo and Angélica Negrón who also has a great band called Balún.
Having said this, when I think of Puerto Rican "celebrated figures" I think of athletes first. I know it's not the artsy thing to talk about, but I admire the quest for greatness and the practice and dedication it takes to become a high-level athlete. Maybe artists and athletes are more alike than we think.
---
Giannina Braschi would agree that sports and art have more things in common than people often recognize. She was a tennis champion in Puerto Rico before she became a poet—and writes about poets being athletes of the heart. So while we are at it, who are your sports heroes?
GBC: Roberto Clemente is the first that comes to mind, not only because of his amazing achievements on the field but also his love for Puerto Rico and his desire to help those struggling in the world. Tito Trinidad, Miguel Cotto, Yadier Molina are people I've admired most of my life.
In addition to cutting-edge new music or Puerto Rican art songs, are there genres of Puerto Rican popular or folk music that move you?
GBC: Bomba, Plena, and Salsa have become a benchmark for me in terms of activity, rhythm, attitude, and energy. Boleros and Danzas are always amazing because of their subtleness, beauty, and sensitivity. I don't quote or actively write in a style similar, but I do strive to create similar feelings and respond to what these genres say to me. There's also something to be said about the craft of orchestration and arranging in Salsa and Plena. The way the arrangers achieve these colorful and powerful timbres without sounding too pretty or refined, but while still being as we say in Puerto Rico "bien ponchaos" (or in the pocket) is extremely invigorating.
Gracias, Gabriel, for your beautiful and invigorating compositions—and for making music that bridges cultures in celebration of life.
Tags: Puerto Rican Song Cycle, Puerto Rican lyrics, Puerto Rican art song